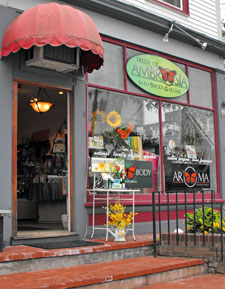 Fields of Ambrosia was developed in 2001 in response to a search for cleansing, nourishing and therapeutic skin and body care products - beneficial to the body and earth friendly. In researching natural soap making and aromatherapy, I recognized that many of the ingredients for creating these items could be found in the gardens, orchards and fields around my home at Intervale Farm. Combining the life force energy of healing plants, which is absorbed by your skin to generate healthy new cells, with the aromas and healing powers of pure essential oils, gives each creation a signature fragrance which can help to enhance health and psychological well-being. The "aroma" of aromatherapy is not as important as how it makes you feel.

Natural plant and vegetable-based oils, distilled spring water, Vitamins C & E, Green Tea & Blueberry Extracts, Atlantic Sea Salts, pure Essential Oils are just some of the ingredients in our products We do use the bare minimum of parabens in our lotions & creams to prevent bacterial growth. Fragrance Oils are used in the Lilac and Pomegranate Passion collections.

All formulas are tested, on willing family and friends. Although I make every effort to ensure that the products are safe, I cannot be held responsible for damage caused through the misuse of any of my products. All products are for external use only.

These products are free from petroleum and animal derivatives and they are handcrafted and packaged in the USA in North Conway, NH. The packaging is assembled from recycled glass, plastic, paper and cork, and gift crates and baskets are built from locally harvested timber.

A portion of all sales is donated to Jens Friends Cancer Foundation.
In the memory of Karen Marie Jasien, 1956-2001 and Mary Porter Savard, 1928-1998
Store Hours:
Open Wed-Sat 10-5
Sunday 10-4
Closed Monday & Tuesday
JEN'S FRIEND'S CANCER FOUNDATION & FIELDS OF AMBROSIA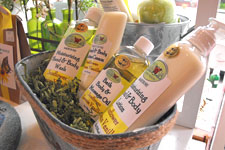 We are a small company of 2, my life partner Francis Savard and I, and we take great pride in our products. It began as a small venture of making natural soaps & lotions for family, friends and myself and then expanded into aromatherapy products when my sister was diagnosed with cancer. The positive effect these products had on her body & her mind led us to become a part of Jen's Friends Cancer Foundation here in NH. To find out more about Jen's Friends visit their website at:
www.jensfriends.org


If you can't find what you are looking for on this website - call our retail store at 603-356-3532.
Thank you - Owner/Crafter