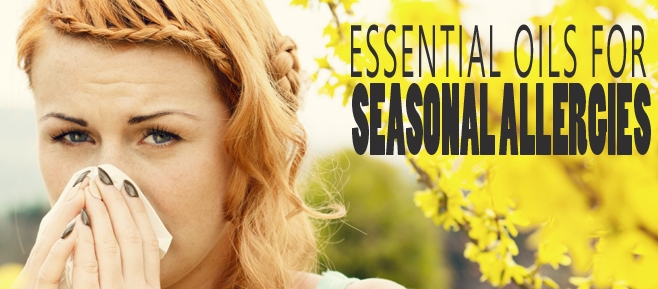 Allergies and Essential Oils
Over the last 50 years, the rise in prevalence of allergic diseases and disorders has continued in the industrialized world. Hay Fever and what's behind the unpleasant seasonal allergy symptoms we all know so well, develops when the body's immune system becomes sensitized and overreacts to something in the environment.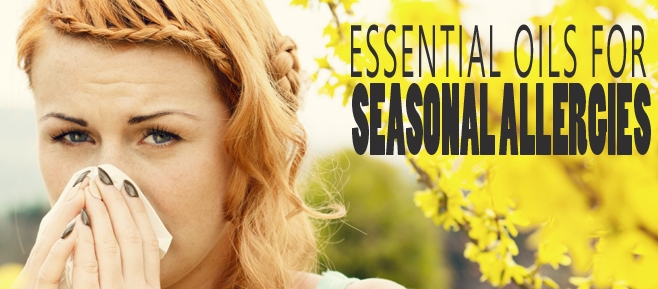 According to The New England Journal of Medicine, 40 to 60 million Americans today are affected by allergic rhinitis and the numbers continue to grow, especially in children. When left untreated, allergies can cause blocked and runny nose, sneezing, watery eyes, headaches and an impaired sense of smell.
People who suffer from allergies are often told to avoid triggers, but that is nearly impossible when the seasons are changing. Thankfully, essential oils serve as a natural and safe way to treat the symptoms of allergies and boost our immune systems. More than the substances themselves, it is our body's reaction to them that decides the occurrence and severity of allergies. The release of histamines by the body is what triggers these reactions. Antihistamines that counteract the histamines are the first line of treatment against allergies.
How Can Essential Oils Fight Allergies?
One of the most amazing benefits of essential oils is their ability to fight inflammation and boost the immune system. Essential oils for allergies will help to detoxify the body and fight infections, bacteria, parasites, microorganisms and harmful toxins. They can reduce the body's susceptibility to outside sources and reduce the overreaction of the immune system when it is faced with a harmless intruder.
Top 3 Essential Oils for Allergies
Peppermint Oil
Inhaling diffused peppermint oil can oftentimes immediately unclog the sinuses and offer relief to scratchy throats. Peppermint acts as an expectorant and provides relief for allergies, as well as colds, coughs, sinusitis, asthma and bronchitis. It has the power to discharge phlegm and reduce inflammation — a leading cause of allergic reactions.
Uses: Diffuse five drops of peppermint essential oil at home to unclog sinuses and treat a scratchy throat. This will also help to relax the nasal muscles, enabling the body to clear out mucus and allergens like pollen. Peppermint tea or fresh mint added to a smoothie can also help. Peppermint oil can also be applied topically to the chest, back of neck and temples – always dilute peppermint with carrier oil before topical application.
Eucalyptus Oil
Eucalyptus oil opens up the lungs and sinuses, thereby improving circulation and reducing symptoms of allergies. Studies have shown that it produces a cold sensation in the nose that helps to improve airflow. It contains citronellal, which has analgesic and anti-inflammatory effects; it also works as an expectorant, helping to cleanse the body of toxins and harmful microorganisms that are acting as allergens.
Uses: To treat respiratory issues associated with allergies, diffuse five drops of eucalyptus at home or apply it topically in carrier oil to the chest and temples. To clear the nasal passages and relieve congestion, pour a cup of boiling water into a bowl and add 1–2 drops of eucalyptus essential oil. Then place a towel over your head and inhale deeply for 5–10 minutes.
Lemon Oil
Lemon oil supports lymphatic system drainage and helps with overcoming respiratory conditions. Studies have shown that lemon essential oil inhibits the growth of bacteria and boosts the immune system. When diffused at home, lemon oil can kill bacteria and eliminate allergy triggers in the air.
Lemon essential oil can also be used to disinfect your home, without depending on alcohol or bleach. It will remove bacteria and pollutants from your kitchen, bedroom and bathroom — reducing the triggers inside of your home and keeping the air clean for you and your family.
Uses: Add lemon oil to your laundry detergent, mix a couple of drops with water and spray it on your couches, sheets, curtains and carpets. Adding fresh squeezed lemon to water also helps with pH balance. Lemon water improves immune function and detoxifies the body. It stimulates the liver and flushes out toxins that can lead to inflammation and an over reactive immune system. Lemon water also stimulates white blood cell production, which is vital for immune system function because it helps to protect the body.
Many more essential oils contain anti-inflammatory properties and work like antihistamines. So the next time you feel a tickling in the nose or itching of the skin or eyes, turn to your essential oil stash for relief.
General: As with all essential oils, never use them undiluted, in eyes or mucus membranes. Do not take internally unless working with a qualified and expert practitioner. Keep away from children. If applying an essential oil to your skin always perform a small patch test to an insensitive part of the body (after you have properly diluted the oil in an appropriate carrier.
For educational purposes only. This information has not been evaluated by the FDA and is not intended to diagnose, treat, cure, or prevent any disease.