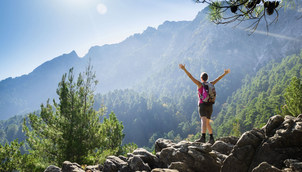 Mountain Hiking for Business and Life
I hike the trails around my town everyday as a part of my morning ritual – it prepares me for the day – but usually just a 1-2 mile trek with my faithful Golden Retriever at my side. I was reflecting the other day about the mountains I have hiked since I relocated to the White Mountains of NH. It is not that many in retrospect, and not all have been in NH, but it occurred to me that four of these ascents have inspired me to make major decisions regarding my life and my business.
I read an article in the NY Times YOUR MONEY section last June written by Carl Richards. It was entitled "What Mountain Climbing Can Teach You About Business". A lot of what he said was very apropos to my lifestyle and my business style. This quote resonated with me deep down as I had actually been through this with both, "Learning about alpine-style climbing helped me see that what we think we need, and what we really need, are usually two very different things. Getting clear about the difference allows us to drop the obsession for more stuff and instead focus on enjoying the experience."
When I look back to my first mountain hike in 2000, I fully believed I needed a bunch of what I now know was extraneous stuff. I never made the summit. And it was only a 10 mile round trip hike. I turned back after the first mile – completely unprepared for what I was attempting. It took me 4 tries to finally reach the fire tower at the summit, and each try I shed a bit more stuff, so I finally realized that simple was better. I had already begun shedding stuff in my home life and this was before I started my business as a Maker.
I visited a health spa in Ludlow, VT in 2005, year 4 of my business when I hit an early plateau of deciding the next steps. Again – mountain hiking gave me the focus I needed and I returned to NH determined to take my production out of my kitchen to an actual studio and shift from tradeshows/markets to opening a B&M store. That took 2 years, but it was a year ahead of my 10 year plan.
The next mountain that inspired and challenged me was actually in Ivens, Utah as part of an intensive 3-week fitness retreat aimed at improving my health. Every day at 6am our group was required to hike up an excruciating 5 mile trek, which got steeper and more challenging every ½ mile. Plus it was 100 degrees outside! It took me 2 hours and 10 minutes the first day. Some of the group never made it to the top. By the end of week three I had trimmed it to 1 hour and 22 minutes, and everyone had made some kind of progress.
That retreat was in 2009, year 8 of my business and I was on the verge of expanding the business. I came back with a renewed energy for surmounting the obstacles of taking my production from my studio to my B&M store. That took 2 years, but it was a great move at the time.
Backtracking a bit, in 2006, I joined the Board of my local Not-for-profit, Jen's Friends Cancer Foundation. This is the charity which my business donates to in the memory of my sister and mother-in-law. Their major fundraiser is The Climb Against Cancer – yep, another mountain trek. I became the organizer of that event and managed it for 4 years – but never climbed the mountain. After stepping down from the Board in 2011, I finally made the hike and it once again changed my business outlook.
I realized I had expanded into a space much too large, with more equipment than I needed, and therefore generated the need for more work than I wanted to handle. I began simplifying once again and by 2013 had found Goldilocks' dream – a store/production space not too small, not too big, but JUST RIGHT.
So, now I find more joy in my experience as a Maker by shedding the obsession for more stuff and the need for growth beyond my capacity. I now focus on what makes me happy in my business and subsequently in my life. I am due for another challenging hike soon and wonder what changes that will bring? I know I am ready for something because I feel the travel itch starting – maybe a trek abroad is due. I am giddy with anticipation.