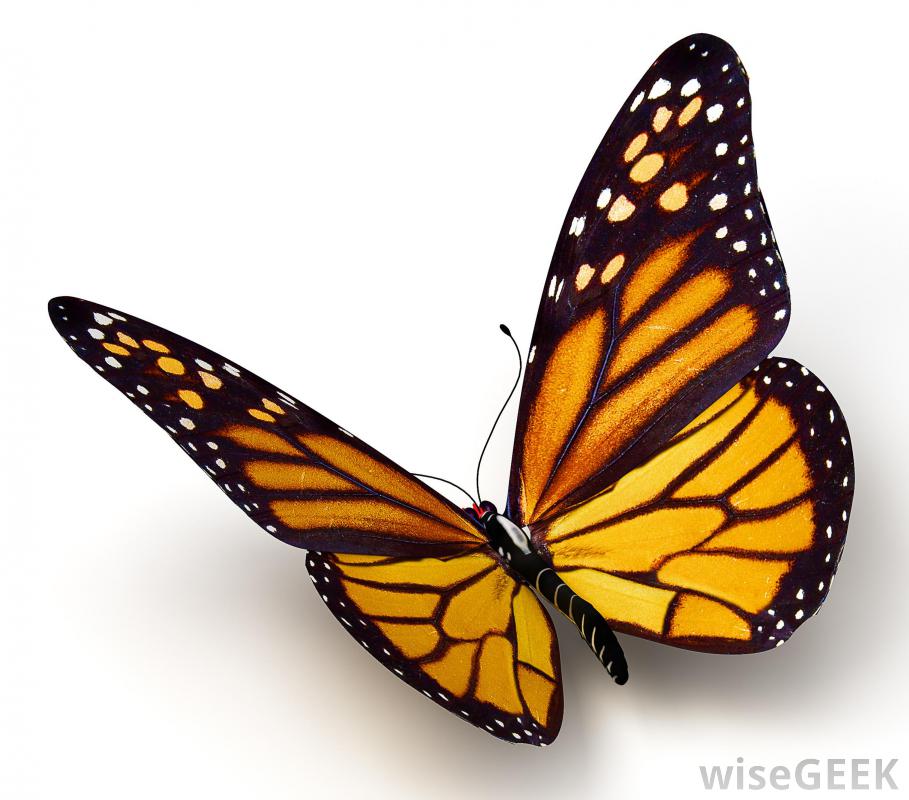 My journey with a Monarch Butterfly
The Monarch Butterfly and I
"Just living is not enough, said the butterfly,
one must have sunshine,
freedom and a little flower."
~Hans Christian Andersen
As a child I was always fascinated with the gardens of my grandmothers in the rural mountains of southwestern Pennsylvania. I loved the colors, the scents the tranquility and, oh yes, the butterflies. I would lie in the grass and watch them float through the air for hours on end. Butterflies have always had a magical quality to me. They appear so ethereal and fragile, much like fairies dancing on air. I did not know it then, but maybe somewhere deep inside my soul, that these beautiful creatures do more than just look pretty and pollinate flowers. They can serve as wonderful spiritual messengers—both literally and figuratively.
*"Overwhelmingly, cultural myth and lore honor the butterfly as a symbol of transformation because of its impressive process of metamorphosis. We can relate the butterfly's stages of life to our own life-phases…growing pains, times of ravenous hunger, times of vulnerability, moments of miraculous expansion".
We start out as simple beings and learn to function in the world, much like the caterpillar. We move along through life in our day-to-day activities, but search for deeper meaning. At some point, we are ready to emerge and share our true essence with the world. Much like the butterfly, we spread our wings and fly.
EGG(growing pains)
Throughout my childhood, my family moved house and neighborhoods several times, which was basically asking my three sisters and I to reinvent ourselves in new environments. We learned early on that change was something inevitable and that it was both frightening and exhilarating simultaneously.
CATERPILLAR(ravenous hunger)
Two of us embraced the thrill and the other two were more cautious. Wild, impetuous Karen chose a military career, flying with the Air Force as our father did. Beverly and Kimberly stayed in the familiar world in which we were raised. I chose a life in theatre, which took me on journeys across the country and the Atlantic. Each trip took me to a new home and a new show onstage which was ever changing. I embraced the new environments, the new friends, the constant challenges that the theatrical stage brought to my drawing table. It was magical yet a bit frightening at times. I found love and marriage on three of those journeys, although none of them were with the soul mate I was seeking, so I continued onward and more inward as well.
In the mid-90's, I finally recognized that a friend who had spiraled in and out of my life over the course of fifteen years was the person I wanted to accompany me on the remainder of my life journey. He spent the summer of 1998 with his mother in NH as she lost her final battle with cancer and after twenty-five years of travelling, we decided to move to the family farm in Intervale. This beautiful Valley has now become home to me. The first thing I did? Planted gardens!
CHRYSALLIS(vulnerability)
I started with a perennial and herb garden which I designed as a healing labyrinth path. After the whirlwind of life on the road for so many years – it was part of my inner focus establishing itself in the new environment. Walking a labyrinth is a wonderful meditation for practicing mindfulness. It brings your awareness into the present moment. It also connects you to nature and all its creatures.
I had no idea how much change was still in my future. That first garden led to three more gardens along with a discovery of healing plants and flowers and their uses. My company, Fields of Ambrosia was in it's early beginnings when my sister Karen was diagnosed with cancer at 44. Her young passing was devastating for me. It was also the beginning of a catharsis that was long unheeded. Imagine the whole of your life changing to such an extreme you are nearly unrecognizable at the end. Although we live much longer than the butterfly, life is fleeting and time moves quickly. Sometimes we do not realize it and then, all of a sudden, the years just slipped away. I had missed so many years of my sister's life, and my families' lives, that the loss of her brought me back to the rest of my family with a passion. Now I spend as much time as I can with both of my remaining sisters and their children so as not to miss anything more. I believe that butterflies can teach us to enjoy the present moment and to make the most of our existence here on earth.
BUTTERFLY(miraculous expansion)
What began as a love of flowers transformed into a small venture of making natural soaps & lotions for family, friends and myself then expanded into aromatherapy products using essential oils to help my sister through her treatments. The positive effect that these products had on her body and her mind then led me to establish Fields of Ambrosia: BATH-BODY-AROMA as a full time business and to bring my new found knowledge to others. I also became a part of Jen's Friends Cancer Foundation in North Conway, NH. Ten percent of my profits, as well as product donations, are given to Jen's Friends each year in the memory of Karen and Francis' mother who both succumbed to this unfortunate disease.
My heart has been opened by the changes that I have experienced. I love more. I care more. I empathize more. I am more sensitive to the energies around me and strengthened to be less victimized by those energies. I am less wasteful in my life and have learned to keep my demands small. I am more than I was before this journey began. I also came full circle back to my other love, the theatre, thanks to the amazing people at M&D Playhouse in North Conway, NH.
It is no surprise that my early fascination with flowers and butterflies is so prevalent in my life today. I chose the Monarch butterfly as the symbol of my business because its connection with my soul is so fitting. It also symbolizes the work that I do with Mother Nature's bounty in creating my products – transforming simple ingredients into wonderful lotions and creams, therapeutic and healing remedies and sometimes just plain and simple good stuff!
*"We are all on a long journey of the soul. On this journey we encounter endless turns, shifts, and conditions that cause us to morph into ever-finer beings. At our soul-journey's end we are inevitably changed – not at all the same as when we started on the path".
*Excerpts from Animal Symbolism by Avia Venefica