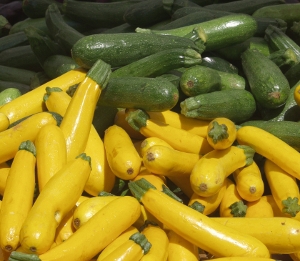 Knock Knock – Who's There? Squash. Squash Who? Zucchini!
So, you planted a few zucchini and yellow summer squash in the hopes of some yummy fresh veggies on the table. If you are in New England, like northern New England, they have just now started to fruit. Thanks to the fabulous weather this summer they are going to fruit, and fruit, and fruit. Bumper crop coming in and OMG, you can't give it away. Because everyone else has the same bounty. And it is sooooo good.
However, the ways to use that bounty are so varied, that If I see one more recipe for the "best" zucchini bread ever I may implode. Zucchini Bread is good, but did you ever think of maybe translating that recipe into, say something a kid might like? I am giving a shout out here to my friend Tracey who started The Blue Egg Baking Company in Newburyport, MA, unfortunately now in hiatus.
She took zucchini and carrots and yellow squash to new levels. Her philosophy: Baking mixes that make kids (& moms) smile. Whole grain, high fiber, outrageously delicious. Want more? Add fresh veggies…no one will know! Tracey
was such an innovator with products like Outrageous Chocolate Brownie, Gluten-Free Brownie, Chocolate Chip Cookie, Gluten-Free Chocolate Chip Cookie Chocolate Cake, Gluten-Free Chocolate Cake Chocolate Spice Cake and Gluten-Free Chocolate Spice Cake. Just add shredded or grated veggies and voila – amazing and super moist and nutritious.
I was inspired by Tracey's mission and started trying some different combos in sweet treats and came up with my husband's favorite – Red Beet Brownies. Holy Moly! Shredded red beet in a simple dark chocolate brownie recipe is divine. And incredible, …oops got off track. Beets won't be ready till September. But anyway, try adding shredded veggies to your regular baked goods recipes, it's a wonderful boost.
My favorite way to use zucchini and yellow squash is in a simple Primavera. As our tomatoes are also ripening and young onions are up it is the perfect summer meal with pasta or rice or just spread on a grilled flatbread or crostini. Cook it up fresh for tonight's supper or if you feel adventurous put it up for a mid winter treat! So easy, even if you have never canned veggies before.
Recipe: 1 small onion diced. 3 cloves garlic, minced. Saute in 1 tsp. basil infused olive oil until soft. Add 1 cup chopped or sliced zucchini, 1 cup chopped or sliced yellow squash, 1 cup chopped fresh tomato. Saute until wilted. Add 2 leaves of fresh basil, a bit of fresh oregano and a knob of butter(like a golf ball). Simmer 30 minutes or less if you like your veg crisper. Salt and pepper to taste.
Pasta Primavera – it's whats for dinner at my house tonite!