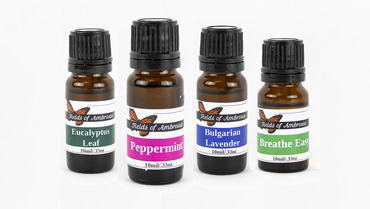 Essential Oils are highly concentrated volatile liquids obtained from plants using a distillation process. Our essential oils are 100% pure aromatic distillates. We offer limited certified organic selections, and we source the world's finest 100% pure essential oils from reputable distillers we know and trust that uses Steam Distillation, considered to be the one true method to obtain an essential oil. Absolutes are extracted using a solvent and CO2 extraction is the newest method. Absolutes, CO2s and other chemical extractions are not considered to be pure Essential Oils.
Because they are highly concentrated substances, essential oils must be used with care and awareness. Before using any essential oil for any reason, we strongly recommend that you seek the advice of an experienced Aromatherapist.
Bottles:
Single note Essential Oils are packaged in 15mil Amber glass bottles with caps and orifice reducers.
Our Signature Synergy Blends, developed for use in our Rural Remedies and Sensitive skin Collections of products,  are now available in 10mil amber bottles with droppers.
All of the information and opinions that are provided on this web site are for informational and educational purposes only. This information is not intended to replace medical advice given by a medical practitioner. Anyone considering alternative therapies should consult with their medical professional before using an alternative method of healing. We do not give nor is any opinion on our web site medical advice.