Welcome to the Fields of Ambrosia
Home of cleansing, nourishing and therapeutic bath and body care for all ages using home grown herbs and flowers, pure essential oils and 100% Plant & Vegetable Oils!
Our products are handmade in small batches, not mass-produced. When you order it – we make it for YOU.
10% OFF your entire Shopping Cart in July
We want to send out a HUGE THANK YOU to all of you who helped keep Fields of Ambrosia afloat during these difficult times. Every online order will receive 10% discount at checkout!
Use coupon code july2020
The Retail Store Is Now Open
We are happy to announce that our Brick and Mortar store
is now re-opened.
We are promoting social distancing awareness and all
of our team members are wearing masks and gloves.
Please note: if you do come in, masks and gloves
are required – and we provide them for free! 😷
Local Pickup Option
If you are local or just visiting and want to avoid shipping costs we have a Local Pickup Option when checking out.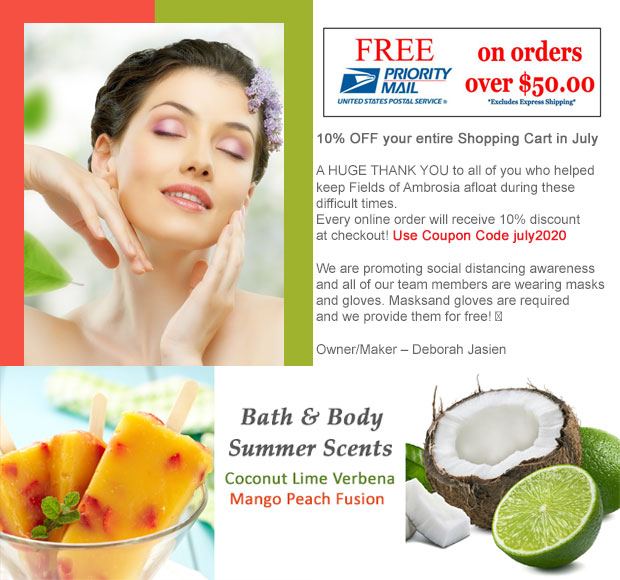 Roseline Mature Skin Care
Our facial care line created with Bulgarian Rose Oil and made with primarily organic ingredients that help to bring out the natural beauty of the skin.
Amazing products, home made all natural, and great prices. I've tried their serums, creams, oils, shave balms and sprays. I love everything they make
I bought the all natural (no deet) black fly/insect spray and it worked great and smelled nice. I went back to the store and found many other all natural items that I couldn't resist! They have a website you can order from and they take orders over the phone too. What a great store!"