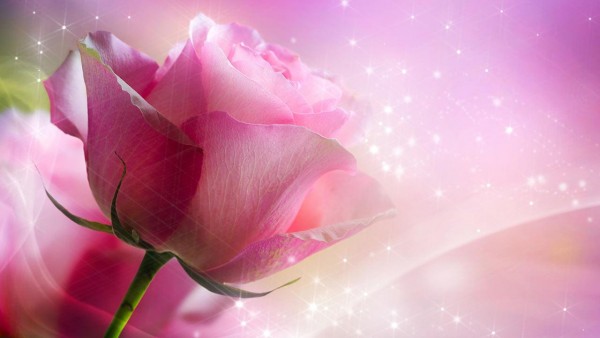 Roses ~George Eliot
You love the roses – so do I. I wish
The sky would rain down roses, as they rain
From off the shaken bush. Why will it not?
Then all the valley would be pink and white
And soft to tread on. They would fall as light
As feathers, smelling sweet: and it would be
Like sleeping and yet waking, all at once.
Roses play a prominent role in our lives. We marvel at their intoxicating fragrance; we enjoy the beauty of our favorites; and we give them to our loved ones to celebrate special occasions. The scent of rose always takes me back to my Grandmother's garden in southwestern Pennsylvania in the 60's. I have always strived to recreate that memory in my own garden, unfortunately not so successfully as she, but close.
Our love affair with roses — for beauty and for health purposes — has a long history. For centuries the rose has been highly valued by many cultures not only for its beauty and perfume but also for its profound healing properties on both a physical and psychological level. Rosewater and rose oil were used in the traditional medicines of China, India, Assyria, Egypt, Greece and Rome, to cure a wide range of medical conditions. It is suspected that the rose was probably the very first flower from which essential oil was distilled; possibly in the 10th Century Persia. Today, most of the rose oils are still produced in that region of the world. A very large quantity of rose petals is needed to produce a very small quantity of oil. Thus, it is very costly. Thankfully only a small amount of rose oil is needed in therapeutic preparations. It is not used in its concentrated state, but rather in a carrier oil such as sweet almond, jojoba, argon and grapeseed.
The use of the rose has a long tradition in folk remedies, most commonly in the area of skincare. It is suitable for all skin types, but it is especially valuable for dry, sensitive or aging skins. Rose water has made its way into cosmetics and medicine for many centuries. Today, beauty experts still consider rose water a wonderfully gentle, natural ingredient with fabulous skin-enhancing benefits. Additionally, and perhaps most obviously, rose water has a pleasant aroma. This lovely perfume and its healing, rejuvenating effects make rose water a potentially valuable addition to your skin care regimen — whether used on its own or in toners, creams and lotions.
Rose essential oil is thought to be beneficial for helping treat broken capillaries just below the skin surface and in minimizing scars as it is believed to stimulate the circulation and promote the growth of new cells. It is used to help dry skin, eczema and considered safe to use on sensitive skin. It is also thought to reduce the appearance of wrinkles. In addition to preparations containing Rose Essential Oil, the use of Rosewater is another way to provide skincare. It is a tonic and antiseptic and is very soothing to irritated skin.
The rose also offers a soothing property to the nerves and emotional /psychological state of mind. It lifts the spirits, can alleviate depression and help people cope with difficult life situations involving emotions such as loss, grief or fear. This cephalic effect can be achieved either from a bath to which drops of rose oil have been added, from a vaporizer or aromatherapy diffuser fed with rosewater, or from simply wearing a rose oil perfume. In addition, a tea made with rose petals often soothes a mild sore throat. Rose hips (the flowers which have swollen to seed) are an excellent source of vitamins A, B3, C, D and E. Taken in the form of tea they are good for infections, particularly bladder infections. It is an especially good source of vitamin C. You can find Rose Hip Tea at The Local Grocer in North Conway, or you can brew it fresh from your garden. Roughly chop up entire rose hips and cover with distilled water and boil for 30 minutes. Strain through a fine strainer or cheesecloth and add a bit of local honey if desired.
The essence of rose need not only be used to treat ailments. Whether inhaled and enjoyed from a freshly cut bouquet of sumptuous blooms or splashed on as rosewater after a shower or bath, it is simply a pleasure to be enjoyed by all!
RoseLine Skincare at Fields of Ambrosia
Each of the Rose Facial Care products is compatible with all skin types but formulated with mature skin in mind. The Rosewater Glycerin Soap or cream-based Jojoba Scrub are both gentle cleansers for daily use. The Rosewater Toner, used regularly, will close the pores first and foremost, then soften, stimulate and hydrate the skin – a superb wrinkle reducer. The Daily Moisture Cream with SPF15 is lightweight and melts into your skin, wear it alone or under your makeup. A traditional Night Cream for intensive repair, Under Eye Cream to tackle those dark circles and Daily serum with Rose Hip Oil and Hibiscus extract to combat wrinkles, round out the product line.
The precious rose oil is present in all of our products, and it is this that is responsible for their extraordinary powers of healing and rejuvenation. Whether moisturizing, curing skin disorders, reducing wrinkles, disinfecting, reducing swelling, or curing with aromatherapy, there is a lot more to the rose than just a beautiful flower.